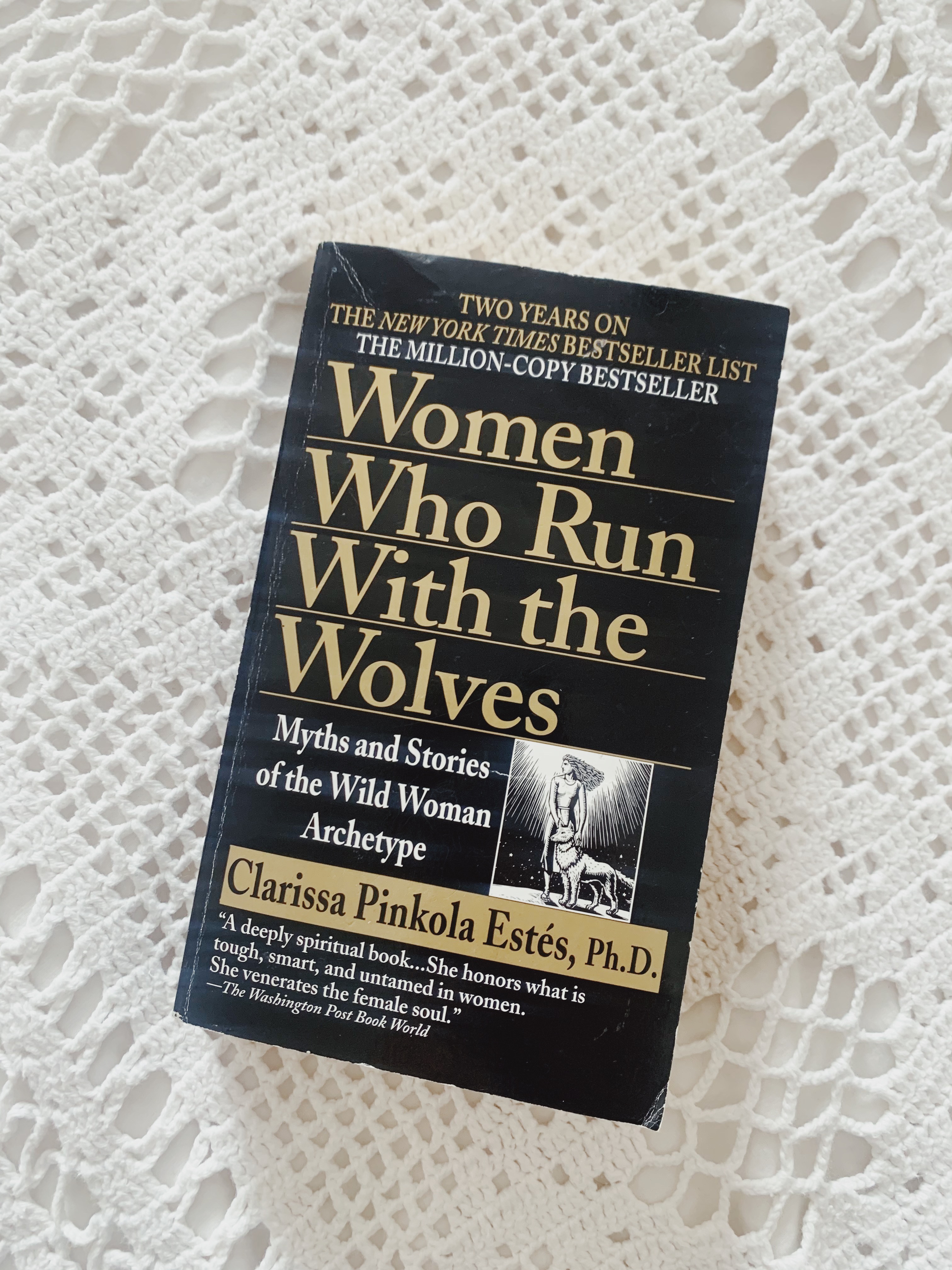 Women Who Run With The Wolves is THE book to read if you're into: feminism, depth psychology, archetypal studies, mythology and spirituality. 
"Within every woman there lives a powerful force, filled with good instincts, passionate creativity, and ageless knowing. She is the Wild Woman, who represents the instinctual nature of women. But she is an endangered species. In Women Who Run With The Wolves, Dr. Estés unfolds rich intercultural myths, fairy tales, and stories, many from her own family, in order to help women reconnect with the fierce, healthy, visionary attributes of this instinctual nature. Through the stories and commentaries in this remarkable book, we retrieve, examine, love, and understand the Wild Woman and hold her against our deep psyches as one who is both magic and medicine. Dr. Estés has created a new lexicon for describing the female psyche. Fertile and life-giving, it is a psychology of women in the truest sense, a knowing of the soul."
Book cover 'Women Who Run With The Wolves' by Clarissa Pinkola Estés, 1992
The Book Club
When: One Sunday a month, 7pm – 8.30 pm CET
Where: on Zoom (bring your own tea and cookies) 
Book: Women Who Run With The Wolves, by Clarissa Pinkola Estés Ph.D.
Dates + reading list
March 28th: introduction
May 2nd: chapters 1 and 2
May 30th: chapters 3 and 4
June 20th: chapters 5 and 6
July 18th: chapters 7 and 8
August 22nd: chapters 9 and 10
September 26th: chapters 11 and 12
October 24th: chapters 13 and 14
November 21st: chapters 15 and 16
November 28th:

-
Pricing: 100,- EURO in total (which comes down to 10,- EURO per meeting) excluding VAT. You can pay at once, I also offer a payment plan of 10 months; 11,- EURO per month excluding VAT. You'll need to buy your own book.
"A deeply spiritual book… She honours what is tough, smart, and untamed in women. She venerates the female soul." (The Washington Post Book World)
The book club comes together once a month. This book club aims to support you in several ways: 1) in finally reading and finishing this awesome book, 2) in connecting with the writings in a deep way, by discussing the book with others and by reading certain passages in depth (the practice of hermeneutics; which is a Mercurial art of reading inspired on the god Hermes and developed by the Greek poet Homer, Maud will guide you in this practice), 3) by talking with other bookclub participants about the archetypal patterns present in our personal lives and how we can work with them and / or transform them (this book club will be a safe haven), 4) by exploring a bit of depth psychology, mythology and archetypal studies and learning how this knowledge can enrich your life. There will probably be more ways in which this bookclub may support you. 
Homework before each meeting: You'll need to read the chapters before the meetings. We will discuss the readings in the meetings.